Your direct link to Parliament
Together with the initiative Diskutier Mit Mir (Discuss With Me), we bring citizens and members of the Bundestag into a direct exchange with each other via group chat.
Less than one-third of teenagers and young adults feel they can influence politics. This is in stark contrast to the political self-image and the will to change this part of our society.¹ But not only among young people but also among those of us who are older, we cannot afford resignation – given what is at stake. In a time marked by profound transformations and numerous crises, democratic societies and political structures must adapt to the challenges and continue to develop.
Parliament plays a central role in connecting people to the processes of decision-making and legislation. It has long been clear that it takes more than the annual ballot to inspire and engage citizens in addressing the pressing issues of the future. There are many reasons why public engagement is mutually beneficial for parliaments, elected officials, and society. Most importantly, it supports the essential functions of parliament by providing access to the breadth and depth of information and ideas needed for representation, legislation, public policy formulation, and community oversight.²
It needs contemporary formats that meet these needs. We are committed to ensuring that parliaments represent all people in our society. To this end, we create places for networking between civil society and politics and support people who bring a breath of fresh air to parliaments with progressive ideas on their way to political office. Together with the initiative Diskutier Mit Mir (Discuss With Me), we are now launching a new project that will sustainably strengthen the link between civil society and parliament.
Chat Politics – Your direct link to Parliament
"Chat Politics" makes it possible to get into direct contact with politicians. Members of parliament are now available via group chat to talk to people from their constituency. With the help of the Discuss With Me app, we are opening up protected spaces for digital exchange and bringing together diverse perspectives on a topic. The chat-based application provides comparatively low-threshold access to political discourse. The aim is to give a voice to people who do not traditionally participate in public debate and whose perspectives are severely underrepresented in parliaments. All you need to join in is the Discuss With Me app.
First event with Kassem Taher Saleh on 16 June at 15:00
On Thursday, June 16, the first discussion event with Kassem Taher Saleh (Member of the Bundestag) took place on the topic "Socially just and climate-neutral housing – is that possible! And can I afford it?" took place.
Chat Politics – an initiative of Brand New Bundestag and Discuss With Me.
References:
¹ Vodafone Jugendstudie 2022: https://www.vodafone-stiftung.de/jugendstudie-2022/
² Global Parliamentary Report 2022: https://www.ipu.org/resources/publications/reports/2022-03/global-parliamentary-report-2022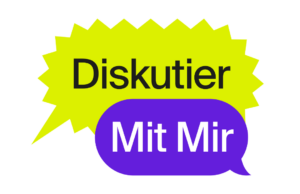 Support the exchange between citizens and members of parliament